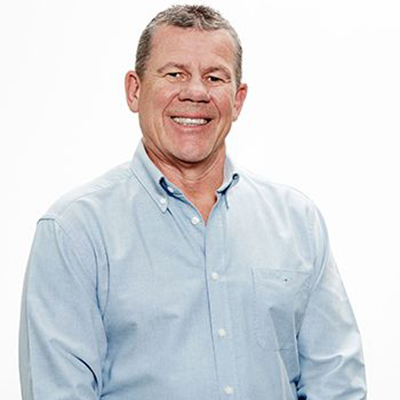 Greg Brimble
Director/Dealer Principal
Greg was born in Adelaide & raised in NZ. He played representative Rugby, Rugby League, Athletics, & Rowing at a National Level in NZ before returning to Australia in 1997 and eventually hanging the footy boots up at 40yrs of age after 22 years of 1st Grade Rugby. Plying his trade as a Qualified Butcher in NZ, UK, Fiji, & Australia Greg progressed to running large modern abattoirs & Meat Trading Companies before entering the Automotive Industry in 2002 selling Used Cars in Dubbo.
In 2007 he bought into his first Dealership in Bathurst, and continues to invest in local Automotive Infrastructure, Business & Industry in Dubbo today. Greg is married with 4 daughters & enjoys spending time with his growing family & brood of Grandchildren, or fishing and spending time out in the Bush with his mates when time allows.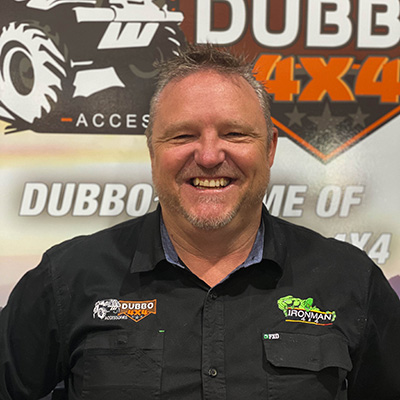 Richie Pawlenko
Store Manager
Richie was born in Bankstown and grew up in the Western Suburbs of Sydney. He started in the automotive industry in 1987 when he accepted a job as a storeman at Truscotts Toyota and has progressed through various roles for 33 years. He moved to Dubbo with his wife Colleen in 1998 to start a family, they now have 3 boys.
In 2001 Richie received the Toyota NSW Parts Representative award. In 2004 Richie ran a small business servicing the automotive industry until he sold it in 2012. He went to Sydney for a few years parts contracting for several dealerships. In 2015 Richie then started at Clancy Automotive in Parts and progressed to Parts Representative until October 2019, until the opening of Dubbo 4x4 Home of Ironman. Richie enjoys his sport and is an avid golfer. He also has his own Sports report on our local community radio station DCFM88.9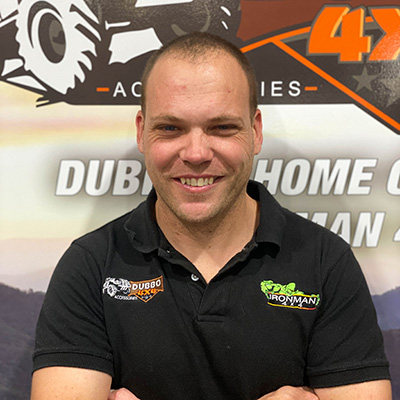 Brendan Box
Technical Manager
Brendan was born in Blacktown and Raised in Orange NSW. He moved to Dubbo in 2010 after marrying his high school sweetheart. A passion for vehicle's was started by his father and uncle from a young age by restoring multiple vehicles throughout his childhood in their back shed.
In 2004 he started his automotive career as an Apprentice Mechanic which then later evolved into a Service Advisor role in 2007. In 2014 he was fortunate enough to venture in management roles both in light vehicle and heavy vehicle workshops. Brendan has a huge passion for great customer service with a fantastic 'can do attitude". When Brendan isn't at work he enjoys restoring vehicles , playing soccer and hunting.
Chris Cook
Transport/ Logistics Coordinator
Chris was born and bred on 2000 acres, 20 km from Dubbo on the Collie Road. He is well and truly a country boy though and through. He even went to a little country school of around 14 pupils, until finishing his education at the original Dubbo High School. Chris has an impressive background in maintenance, with over 20 years' experience. He also played sport around the Orana region for over 16 years where everybody knew him as "Cookie".
He is passionate about the automotive industry and the new Dubbo 4x4 superstore. He has enjoyed being involved with the development of the store right from the first nail being struck to now working as our main Logistics and Transport Coordinator. If you haven't met him before he is confident that he knows a relative or friend of yours.